Prayer Warrior
Many are anxiously waiting for us to help them launch a Bible translation.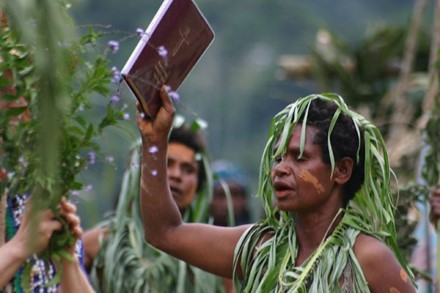 They are prepared by God to enter the intense battle—doing the work of translating the Bible into their own languages. 
Will you consider being their intercessor—to diligently pray for them? 
We are looking for teams that will take a specific language and dedicate themselves to pray over this project until it is completed.


Here is how to get started:
Gather a group that is willing to adopt a language to pray for.
From the group choose a couple of folks that are willing to travel to the location and interact with the national translators during a two week event focused on Bible Translation.  This could be a MAST event for written or oral translation work, a DOT event for the deaf or a SUN event for the blind/deaf.
Contact us and let us know so we can begin to connect you to opportunities that fit your vision and the timeframe that you can travel.

Call 1-800-THE-WORD (843-9673) – ask for either an Advocate or a Recruiter
Online click on Volunteer Opportunities to find current open trips or register on this page to let us know you are interested.


Here is how you can prepare:
Learn about Bible Translation methods by taking one of our WAVE classes either online or here in Orlando. The class explaining our MAST process and the Spiritual Discipline classes on prayer and spiritual warfare would be good places to start.
Begin praying for the team that God is going to form for you to connect with:

Pray that our Lord God will build up the MAST training team needed to teach the Bible translation methods.
Pray for the country you will be going to by using the information on Operation World and Prayercast.
Pray for the national Bible translators who are overcoming fear of doing this monumental task.  Pray that the Lord will prepare their hearts and give them a deep understanding of His Word.  Many will be using computer tablets for the first time and will be overcoming many technical challenges as well as fighting the spiritual battle of taking back Satan's territory as they make God's Word accessible to their people.

Use Tools and Resources available to you to share with the team you are gathering to help them learn more about WA and what God is doing with Bible Translation around the world.
Plan to gather stories and pictures that you can share with us while you are on the event.
The role of the people traveling to the event:
Use the checklist to help you prepare for your travel and consult the regional information for more details.
Use the Prayer Warrior Framework to guide you as you pray.
Arrive before the event starts to meet the leadership team and be orientated on what will be taking place.
Join the translation team for a time of corporate worship each morning.  You may even get asked to help lead the devotions one of these mornings.
Pray over the event and over each person at the event throughout the day.  Gather specific requests and share them with your team back home so they can faithfully cover the event in prayer as well.
You may eat your meals with the translation team and will have a recap each evening with the leadership team there to hear the progress that is being made.
Interact and get to know the translators and/or the national facilitators.  Find the best ways to stay in touch so that you can continue to gather requests after you leave.  This will allow you to follow their progress and continue to be the point person for you team of prayer warriors.  We need to cover them in prayer, praying for specific needs and requests that they have.


A Final Word: Be strong in the Lord and in his mighty power.  Put on all of God's armor so that you will be able to stand firm against all strategies of the devil.  For we are not fighting against flesh-and-blood enemies, but against evil rulers and authorities of the unseen world, against mighty powers in this dark world, and against evil spirits in the heavenly places.
Therefore, put on every piece of God's armor so you will be able to resist the enemy in the time of evil. Then after the battle you will still be standing firm.  Stand your ground, putting on the belt of truth and the body armor of God's righteousness.  For shoes, put on the peace that comes from the Good News so that you will be fully prepared. In addition to all of these, hold up the shield of faith to stop the fiery arrows of the devil.  Put on salvation as your helmet, and take the sword of the Spirit, which is the word of God.Pray in the Spirit at all times and on every occasion. Stay alert and be persistent in your prayers for all believers everywhere.  Ephesians 6:10-18 NLT