Orlando Events & Training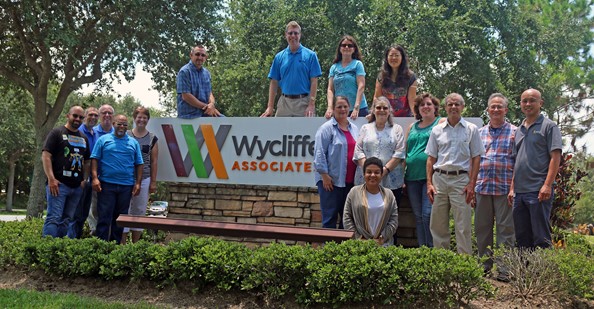 We are happy to have you join us in Orlando!  For your training or event, please be aware of the following details.  All of the items below will be your responsibility to plan and arrange before you arrive in Orlando. 
Your training/event will be held at our main office in Orlando, Florida. The address is 11450 Translation Way, Orlando FL, 32832. Click here for a map of our Orlando Campus.  
Dress code is business casual.
You are responsible for your own food, housing, and transportation while you attend the training/event.  We are not able to arrange your housing, meals, or rides to and from the airport.  You must plan this before you arrive in Orlando.  Options to consider are below:

Wycliffe Associates occasionally has access to a limited number of apartments for rent or RV parking spots. If you would like to find out more, you can email housing@wycliffeassociates.org or call (407) 852-5347.
Pioneers is down the road and also has limited housing for a fee in their Frizen House. Email reservations@orlandoteam.com for information. 
Wingate by Wyndham Orlando will offer a discount if you mention you are coming for an event at Wycliffe Associates. They also have free airport shuttle to their hotel. You will have to call them directly at (407) 826-5258 in order to receive the discount.
You can go on the internet to find other hotels, restaurants, or car rentals in Orlando. Home Away or Airbnb both have a good number of listings in this area that could be worth considering.  We are on the south east side of Orlando, about 10 minutes southeast of the Orlando International Airport (MCO).
We are about 40 minutes south of the Orlando/Sanford airport (SFB). Blue Book Cars has reasonable rental rates and may be an option you want to consider if flying into Sanford. 

Uber is a great transportation option and has reasonable prices.  You are responsible to book your own Uber and you must install the Uber app in order to use this service.  Please visit either Apple or Google for the Uber app here:  https://itunes.apple.com/us/app/uber/id368677368?mt=8  / https://play.google.com/store/apps/details?id=com.ubercab&hl=en_US
There is also taxi service at the airport, with fairly reasonable prices. 
We have a number of nice restaurants and grocery stores within a mile or two of Wycliffe Associates. Our grocery store which is closest to Wycliffe Associates is Publix at Cornerstone Plaza at Lake Hart.   
Orlando churches: We have many great local churches to attend if you will be in Orlando on a Sunday.  Please bear in mind that you will be responsible for your transportation to church on Sunday, if you choose to attend.  (Attendance is not mandatory.)  If you are able to talk with other team members from your training, you may be able to carpool, but we cannot arrange this for you. 
FOR FURTHER DETAILS OR QUESTIONS, CONTACT:

Your specific Account Manager, or call the front desk for help: 1-800-843-9673