Print on Demand (POD)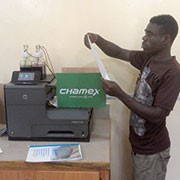 What:
   Equipment and a possible Business Process to publish Bibles and discipleship materials.
   Our primary focus is on supporting Bible translation projects.
   The equipment can secondarily be used to produce income, via print orders from the local community.

Challenges the POD system solves:
Translation of Bible Content can now be coupled with Distribution of Bible Content, to aid in making disciples of Christ

Print "On Demand," rather than waiting for a minimum print run (typically 5,000–10,000 books)

Print "In House," rather than paying a third party Copy Shop or large scale Publisher

Print Locally, rather than smuggling Bibles across country borders or paying shipping & import fees

Print Free and Open Content, rather than losing copyright ownership to a third party publisher
Advantages:
Low startup costs (less than $15,000 USD for the equipment/installation/training)

Small Footprint (could be hidden within a walk-in closet)

Economical printing and binding of books and discipleship material

Production Components are locally available or can be shipped (only the ink is proprietary)

Do-It-Yourself model puts the control in your hands

No need for minimum print order. Materials cost-per-book is the same for 1 book or 2000 books

Reduces need for shipping logistics
Capabilities
Diverse Size Formats

Workbook (full page)

Paperback book (half page)

Tract size (quarter page)

Diverse Binding

Perfect Bound (Standard Glue Binding)

Wire Spring

Plastic Spiral

Saddle stich (Staples)

Growing Capacity

Initial testing reports a full color, heavy ink coverage, 370 page book for less than $1.70

Max Capacity of 1600 books per month

For More Information:
6 pieces of equipment make up a Print On Demand system: Computer, Printer, Cutter, Binder, Laminator, and Creaser. Shown here are the components of a typical system.
 
 

Step 1: Computer

 

Step 2: Printer (2 shown)

 

 
 

Step 3: Laminator

 

Step 4: Creaser

 

 
 
Steps 5 & 6: Stack Cutter (right) & perfect binder
Print On Demand - Entire System