Togo
Last updated: 4/19/2017
Togo is probably one of the nicest places in Western Africa. Roads are pretty good, distances small, people friendly, hills and mountains waiting to be explored. The capital city is Lomé. The official language is French, although it is not widely spoken outside of business and government. Widely spoken indigenous languages include Ewe/Mina in the south and Kabiye in the north. We are working together in Bible translation with MAST. It can be a wonderful country in which to serve at a MAST.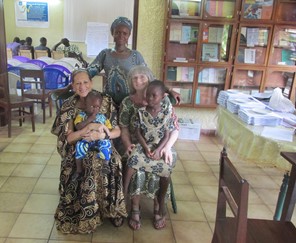 Visa:
It is easier to obtain a short term business visa than tourist. There are not as many documents required
You can obtain your Visas with Travel Docs. www.traveldocs.com. They know all the ins and outs of dealing with the Embassy of Togo.
Passport with at least six months remaining before expiration.
Attach one passport photo. If you plan an extended stay you may need more.
Proof of departure.
A letter of invitation on company letterhead addressed to Embassy of Togo, Visa Section, Washington DC. The letter should include information on the reason for your visit and address to be visited.
Proof of Yellow Fever vaccination.
Travel with at least one 2x2 passport photo.

Local Contact:
You Wycliffe Recruiter or Team Lead for the MAST. 
Medical:
Yellow Fever vaccination and yellow World Health Card are required. You must have this available for inspection on arrival in-country.
You are encouraged to visit CDC Information for Togo for the most up to date travel info.
Anti-malaria medication is also strongly recommended.
Contact your health provider for other recommendations vaccinations.
Recommend that you carry medication for traveler's diarrhea and some electrolyte powder to avoid dehydration.
If you have a weak stomach, it is good to bring Pepto-Bismol tablets and take one before each meal.

Clothes:
For Men:

Casual western shirts and slacks. Shorts and tank tops not recommended.
Whites not recommended due to dusty dry season.
Good walking shoes and sun hat.



For Women:

Women should wear modest dresses/skirts and blouses.
Most women wear head coverings to church (head wraps, hats, or scarves).
There are wonderful fabrics available for sale and a national outfit can be custom made quickly.



What is socially acceptable and expected footwear?

Nice shoes for church - sandals or flats, or walking shoes.
Recommend good walking shoes. Please keep your shoes clean. Africans wash their shoes and are often shocked at the condition of many Expat's shoes. There is a proverb, "as you dress so shall you be perceived."Please keep your shoes clean.



Make sure to check the local weather before you travel! Anywhere in the world can be chilly! A light sweater will suffice and an umbrella for rainy season.

 

 
Things to bring:
Bottled water is readily available and most apartments/guest houses where you will be staying will have filtered water available.

Bug Spray or wipes with Deet available in the camping department. Easy to transport.
A small power strip (250v) is handy and electrical adapter is required.
A small flashlight and small battery operated fan.
Any over-the-counter remedies, your toiletries.
Snacks (protein bars, trail mix, candy bars, etc.), if you wish but cookies, chocolate, plantain chips, and especially peanuts are readily available.
Have a copy of your itinerary of your return flight (with your name on it) and a copy of your travel insurance paperwork easily accessible (especially when traveling).

It is always good to have a copy of your passport.
Things to Know:
Be prepared to do without water, electricity or internet fairly often.
There are few public restrooms so be prepared with tissues in your pocket.
People are friendly and will greet you as you go.
Old people are respected, loved, and cared for.
Pedestrians do not have the right away and drivers communicate with their horns.